I originally came across the idea of a worm tower while reading through the Permies forums. The concept is really interesting. You take a 4″ piece of PVC, drill lots of holes in it, bury it in your raised bed and fill it with kitchen waste. The scraps will draw worms in to eat and they will exit the tower spreading vermicompost throughout your garden. While I'm skeptical that anything will get spread, I do see this as a great way to boost your worm populations.
Since PVC is cheap (10′ for $12) I decided to add a worm tower to each of my raised beds: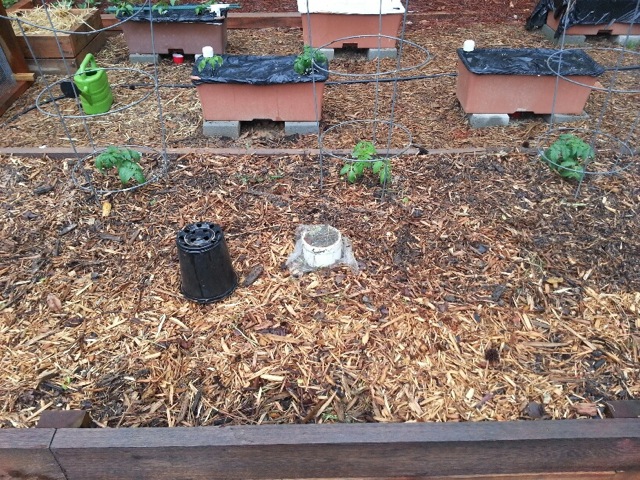 After drilling the holes and anchoring the tower I covered it with a hunk of Tulle. I threw a black seedling container on top of that, and hopefully this set up will keep the flies out and help mask the white PVC pipe protruding from each bed. I'm starting to think that I should have put the tower on the back side of the bed so it doesn't shade small seedling behind it. Once the worms finish feasting on the initial batch of scraps I'll will bust out the post hole digger and move it. Cool idea!