Being a new gardener, I have been trying to experiment with growing just about everything I can get my hands on. I've had success so far with cucumbers, lettuce and most recently garlic. Garlic is amazingly easy to grow, and I learned some useful tips in a gardening class I took a few weeks back. To get started growing garlic you will first need to grab a bulb of organic garlic from your favorite organic grocery store (you can also buy garlic bulbs online). I get my garlic from Whole Foods, but any organic store should do.
To plant your bulbs you will need to split apart the individual cloves. Each clove can be planted independently, and will produce a bulb just like the one you bought at the grocery store! Once you have your cloves broken apart you will need to dig a small hole for each clove you wish to plant. Each clove can be placed in a hole, but they need to be oriented so the pointy end of the garlic is facing up. I planted 12 cloves 4 weeks ago, and I now have 12 garlic bulbs coming up. Here is one of the garlic containers I planted: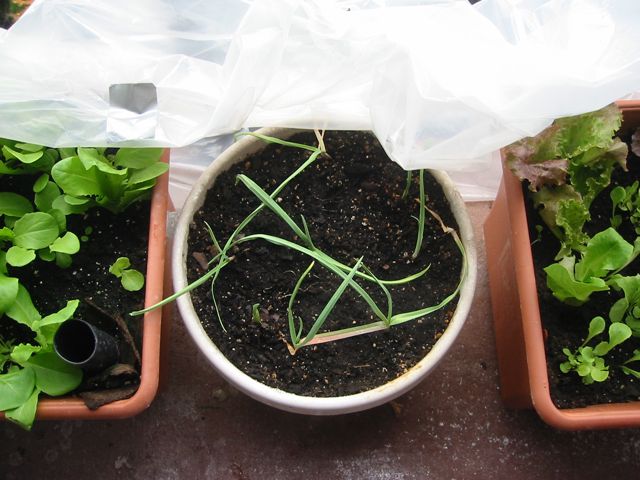 While this may not look like much, this container will produce 6 garlic bulbs. While not a ton of garlic, at least I will know where my garlic came from, and more importantly that it wasn't drenched with a bunch of pesticides and nasty fertilizers. It was fertilized with worm tea, which came from the worm bin sitting 10 feet away from me. Can't wait to harvest my first garlic bulbs in a few months!!!