Before I began using my beloved Earthbox, I started a slew of vegetables in ordinary plastic containers. Each container type had a different set of challenges to learn about and deal with, but the biggest one I found was getting the moisture levels correct. There was information scattered around the Internet about how much to water, when to water, and experts opinions of how moist each plant needs to be. I tried several approaches to watering:
– Water once the soil had pretty much dried out
– Water when the plants showed signs of water deprivation (wilting, etc.)
– Water every other day
– Water every day
– Water when your dog howled at the moon
I tried all of the above, and I couldn't tell much of a difference between them. That is until I yanked my Cherokee Purple Tomato plant because is was dying. After I pulled out the plant and looked at the roots I noticed that there was some type of mold or fungus growing all throughout them. After a bit of research it turned out I had root rot. 🙁 This was most likely caused by over watering and poor draining soil in my containers. This really bummed me out, and I decided to purchase a soil moisture tester for $10 to help me figure out exactly how much water my plants needed.
The soil moisture tester makes it easy to visualize how moist your soil is. Here is a reading from my tester: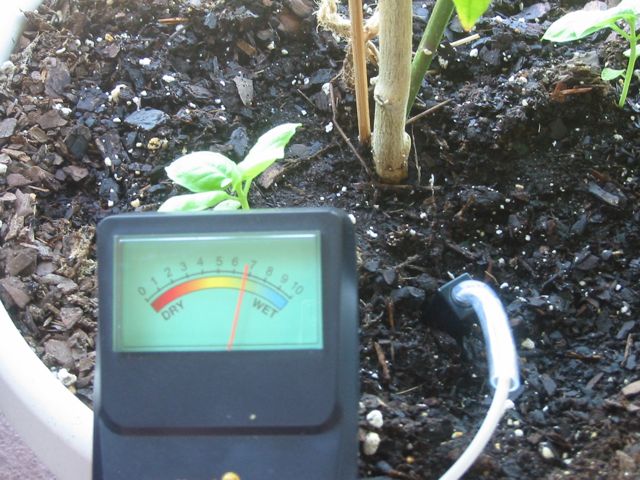 So the only time you need to add water is when the counter shows that the moisture content dropped to an unacceptable level (I usually water when I'm in the yellow area). The Luster Leaf device I am using has a chart for various plants to help with identifying moisture levels, and a bit of research will show what the typical soil moisture levels for a given plant should be. Some people may be asking why I don't just stick my fingers down in the soil to measure the moisture level. Well, I found it makes a bit of a mess and in some cases the plants bushed out so I couldn't easily get my fingers into the soil. I could slide the soil reader in though, and the readings were helpful for a new gardener who was trying to keep the plants happy. Also, for $10 you can't really go wrong.